Elizabeth College: The Happy Start and the Tragic End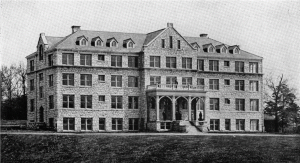 Before Roanoke College expanded into what is now known as Elizbeth Campus, the site was a college for women–Elizabeth College. The school opened in 1912 with 42 students and soon became known for its music and theatre programs. The College lasted a decade until a devastating fire destroyed the Main Hall during Christmas break in 1921. The students returned and finished the year studying in an array of places, but the college was never rebuilt.
Learn more in a feature exhibit about Elizabeth College curated by Maddie Andrews, an intern from Roanoke College.
Elizabeth College Main Hall
Sun - Mon: Closed
Tue - Sat: 10:00 AM - 4:00 PM
Sun - Mon: Closed
Tue - Sat: 10:00 AM - 4:00 PM